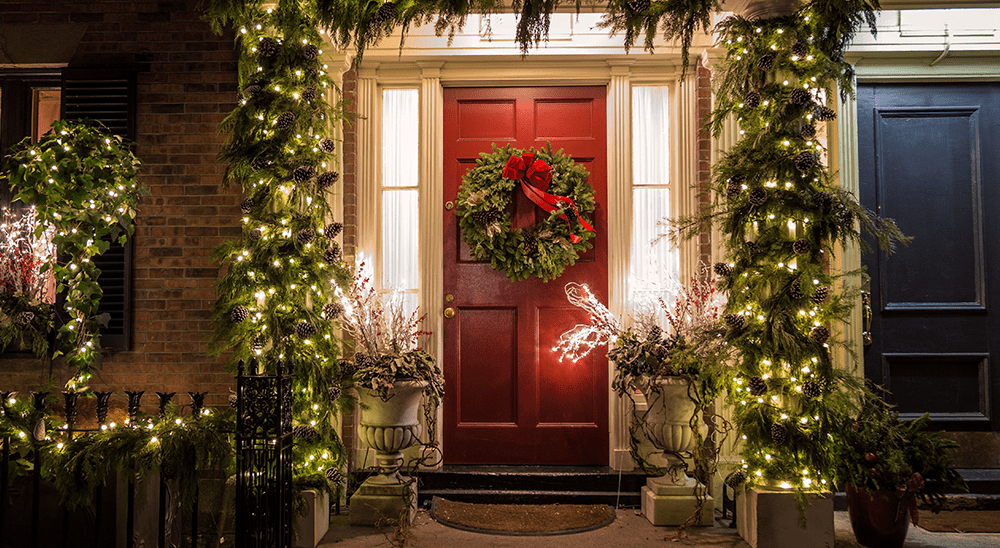 It's the most wonderful time of the year for front-yard decor! From wreaths, to lighting, to snow-covered plants, the landscapes in Guelph are a perfect match for the chilly winter vibes of the holidays. Here are some holiday landscaping tips to warm your spirits through the chilly Christmas season.
Outdoor Holiday Decorating with Evergreens
'Tis the season for holiday greenery, and your front yard is the perfect spot to use it. At our garden centre, we're overflowing with festive and fragrant evergreen options. Why not add some juniper to your window boxes? Or, perhaps you could adorn the railing on your front deck with a garland of pine? Using evergreens for your front-door decor looks right on-theme while also benefiting the local birds.
Add Sparkle with LED Christmas Lights
If you only choose one way to decorate, stock up on brilliant LED lights. I'll be honest with you, LED is really the way to go. Yes, they cost more than incandescents today, but they're a massive cost savings in the long-term. LEDs produce no heat, so they're much safer for your trees, shrubs, and home. They're also far more durable, lasting an average of 25 times longer than incandescents—not to mention the whole string won't be ruined by one broken light. Best of all, they're far more eco-friendly, using about a fifth of the energy of incandescents. At this time of year, the energy bill savings go a long way!
Now that you know why you should choose LEDs, pick some up soon! It's much easier to put lights up on your house while the weather is still relatively mild. By now, we're already losing half our day to darkness, so as soon as the lights are up, they'll make a big difference in your mood after a long day. It'll also be easier to see where you're going in the dark—especially useful for that icy patch by the steps. Yikes!
To say we carry LED Christmas lights in "a rainbow of colours" would be a vast understatement. Our huge selection is bound to inspire you! Go with the classic multi-coloured set, alternating green and red, or white lights in cool, warm, or neutral tones. 
Festive Fun with Winter Porch Pots
Winter porch pots are my absolute favourite piece of holiday decor. You can get so much more creative with these containers than with your spring and summer container gardens because you don't have to worry about keeping anything alive! With winter porch pots, all you need are some awesome materials and a little bit of inspiration, and they come together in no time. 
We carry winter porch pots designed and assembled in-house at Royal City Nursery, but we're also happy to design one for you using materials you bring from home. However, a question we get a lot is how to make the DIY versions look as great as the ones we sell in-store. Here are a few hints for creating a stunning porch pot that'll still look great after Christmas:
Use More Stuff: Most people aren't using enough! Take home way more greenery and accents than you think you need—to get your porch pot looking full and beautiful, you need a lot of stuff. Whatever you don't use, just re-purpose elsewhere on your porch to tie your theme together!
Design Them Like Container Gardens: That is to say, use the "thriller, filler, and spiller" rule. Try using firmer greenery and birchwood as fillers. Berries, bows and fun ornaments work great as thrillers. Finally, use draping greenery, like cedar, as a spiller.
Do Something a Little Different: Sure, you can stick to the traditional holiday elements—but that's what everyone expects you to do! Why not break the mold with offbeat inclusions like magnolia leaves, spent coneflowers, or dried hydrangeas? These unusual items have a wintery feel without being overtly holiday-themed—remember, there's still a lot of winter left after New Year's Day!
Sharing Holiday Cheer with Wildlife
Cut Christmas trees are for the birds—but not in the way you'd expect! If you have a cut Christmas tree this year, don't trash it as soon as the holidays are over. Instead, put it outside near a bird feeder where it can provide some much-needed shelter. You can keep it freestanding by driving a metal rail into the ground (note: check for utilities first!) wherever you want to place the tree, then use zip-ties to tie the trunk to the rail. The tree will look like a planted tree, and no one will be the wiser that it was thrown away. If your feeders are in the backyard and you don't care too much about how it looks, you can simply lean it against the fence.
If you keep the tree outside in the sun, it will develop a beautiful burnished copper colour that adds a little extra interest to your winter landscape. Kept in the shade, the tree will stay green well into the new year. Dave and I do this every year, and when March comes around, we chop up the tree for firewood.
Shrubs and Trees for Beautiful Holiday Landscapes
Here's the real secret to landscaping for the holidays in the Guelph area—most of it happens in the spring or fall when you plant new trees and shrubs. The plants in your landscape are your biggest assets when winter comes around, so choose them wisely! Dave and I have been working on landscapes for years, and our philosophy has always been to ensure the area looks great through all four seasons. In the spring, everyone is fascinated by flowers, so they tend to overlook shrubs and trees that truly shine after December 1st.
What you can do is take note of the shrubs and trees in your neighbourhood that have attractive features, like pretty berries and evergreen foliage, right now. Think of sumacs, deciduous holly, barberry, and winterberry. Consider also the plants whose spent features look whimsical when covered in snow, like ornamental grasses and hydrangeas.
When choosing trees and shrubs in areas where you'd like to add Christmas lights, makes sure the structure and shape of the plant is conducive to lighting. Instead of more fragile shrubs like spirea, which look great during the growing season but can't hold lights to save their lives, think about shrubs with a definable structure. Pagoda dogwood, for instance, grows in horizontal layers that look incredible when covered in lights. Magnolias and Japanese maples are also fantastic choices for lighting that look great throughout the year.
And, of course, don't forget the evergreens! Planting evergreens is the best way to hold onto a little natural colour in the wintertime, so don't neglect them. Creeping juniper, with its gorgeous berries and low-growing habit, is an easy and beautiful choice to incorporate into the landscape. Spruce trees are a Christmas classic, they're gorgeous year-round and make great homes for wildlife. If you're not sure what kinds of evergreens would work in your space, snap a photo of your landscape and bring it in with you—we've got an eye for this sort of thing.
We're extremely fortunate in Southwestern Ontario to have a naturally gorgeous winter landscape. While we may take the snow for granted when we shovel it off our walkways, it really does enhance the beauty of our yards if we let it. If you're inspired to create the most gorgeous dang holiday landscape in Guelph, Cambridge, or Kitchener-Waterloo, make us your first stop. Our nursery is already in full holiday mode, and we guarantee a visit will put you—and your yard!—in the Christmas spirit.